HKTDC Education and Careers Expo opens today
Special zones and theme days help cultivate talents and highlight employment opportunities
HONG KONG, Feb 2, 2023 - (ACN Newswire) -
Organised by the Hong Kong Trade Development Council (HKTDC), the 32nd HKTDC Education & Careers Expo runs from today until 5 February (Thursday to Sunday) at the Hong Kong Convention and Exhibition Centre (HKCEC). Presenting designated zones under two themes, Education and Careers, and with the overall theme of "Ride the Wave to Success", the four-day event is open to the public free of charge, serving as a one-stop platform to offer the most up-to-date information on education, training and career development opportunities.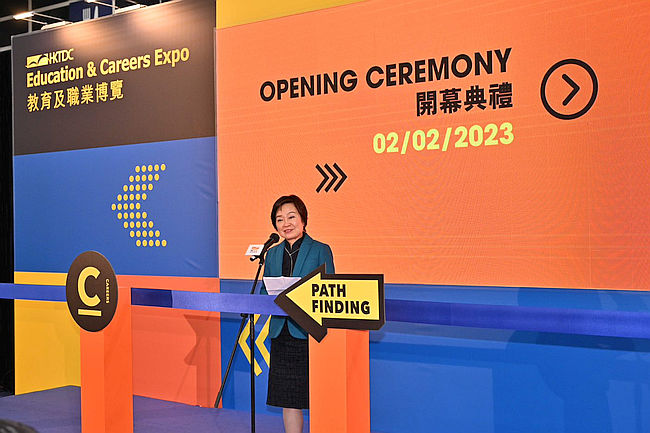 Choi Yuk-lin, Secretary for Education of the Hong Kong Special Administrative Region (HKSAR) Government, officiated at this morning's opening ceremony for the 32nd edition of the HKTDC Education & Careers Expo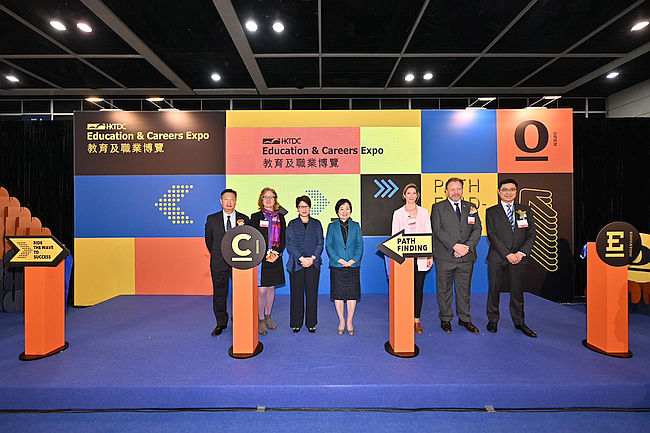 Edmond Yu, Deputy Executive Director, Vocational Training Council; Stefanie Seedig, Consul General, German Consulate General Hong Kong; Sophia Chong, HKTDC Acting Executive Director; Choi Yuk-lin, Secretary for Education of the HKSAR Government; Christile Drulhe, Consulate General of France in Hong Kong and Macau; Thomas Gnocchi, Head of Office, European Union Office to Hong Kong and Macao; and Charles Ho, Assistant Director - Training, Hong Kong Institute of Construction [L-R]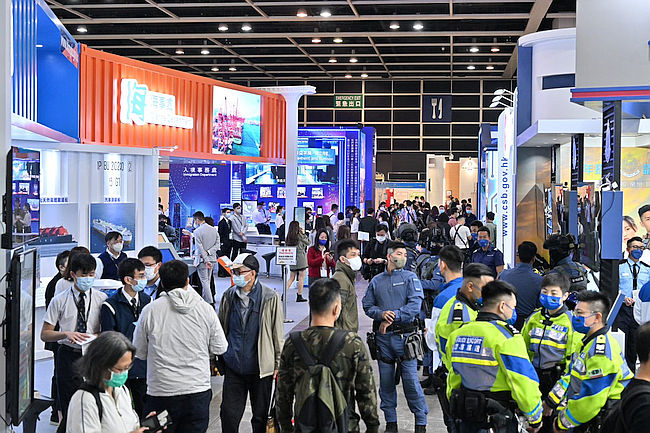 The Career-themed Zones provide the latest information on a wide array of industries


Officiating at the expo's opening ceremony this morning was Choi Yuk-lin, Secretary for Education of the Hong Kong Special Administrative Region (HKSAR) Government. In her welcoming remarks, Sophia Chong, HKTDC Acting Executive Director, said: "Entering its 32nd year, the Education & Careers Expo continues to serve as a unique platform for students and jobseekers looking to connect with different institutions and employers and gain insights into the latest educational opportunities and career options. This year we welcome 700 organisations from 20 countries and regions to the expo and I wish everyone a fruitful event - and the best of luck to those seeking new opportunities."
Education-themed Zones highlight local, mainland and overseas opportunities
This year's expo presents four Education-themed Zones, including the Local Studies Zone featuring universities and post-secondary institutions that provide information on further studies, including Hong Kong Shue Yan University and the Hang Seng University of Hong Kong.
The Overseas & Mainland China Education Zone brings together consulate general offices, officially approved organisations, overseas universities and study centres to provide information and consulting services relating to educational opportunities in different countries and regions, including Europe, the United States, Asia and Mainland China. The Lifelong Learning Zone showcases diversified self-betterment programmes and on-the-job training courses for visitors, covering areas such as influencer or key opinion leader (KOL) training, technology education, lifestyle and language.
At the Youth Zone, visitors can get information from non-profit organisations on career planning and continuing education, and find out more about summer jobs and internship opportunities as well as full-time positions.
Nearly 3,000 job openings on offer
The expo's Career-themed Zones offer nearly 3,000 job openings. The Careers Zone hosts various professional institutions, governmental bodies and other public and private organisations to highlight a range of career opportunities. The Chamber of Food & Beverage Industry of Hong Kong, a headhunting agency that hires for hotels and restaurants, and a number of banks and insurance companies are actively seeking talents as society gets fully back to normal following the pandemic. At the Recruitment Square, recruitment platforms and employers are recruiting and interviewing candidates on the spot.
80+ events during the expo; Education-themed Days help those looking to studying abroad
More than 80 inspiring events are being held as part of the expo, offering a diverse array of educational, career and self-improvement information. The expo also offers four Education-themed Days focusing on the European Union (today), the United Kingdom (3 February), France (4 February) and Germany (5 February), with consulate offices or study centres presenting visitors with information essential to studying in these countries.
The expo also offers a series of seminars to share information on studying in the mainland and various overseas countries. Highlights include the China Education Exchange (Hong Kong) Centre's session on the "Scheme for Admission of Hong Kong Students to Mainland Higher Education Institutions 2023/24" (today) and the Consulate General of Finland in Hong Kong and Macao's seminar, "Study in the Happiest Country in the World - Finland" (today). In addition, educational institutions will introduce visitors to the international English tests that students must take in order to study abroad and offer tips on preparing for the tests (4 and 5 February).
Furthermore, representatives from the consulate offices of France, Germany, and Hungary will share information on the Working Holiday Schemes that enable young people to explore different opportunities around the world (4 February).
Four Career-themed Days dissect latest career trends and prospects
Four Career-themed Days will highlight the latest career trends through various seminars. Co-organised by the Vocational Training Council (VTC), today's VPET - Skilling Talent for the Future theme day discusses how to cultivate a new generation of innovation and technology talents, how the catering industry is working to provide fresh experiences, and the latest developments in the play education sector. Tomorrow (3 February), the GBA Opportunities theme day will look at business, employment and study opportunities in Qianhai, Shenzhen and other cities in the Guangdong-Hong Kong-Macao Greater Bay Area.
On 4 February, the Exploring Construction Industry theme day, co-organised by the Hong Kong Institute of Construction (HKIC), will discuss how to embrace innovation and technology. Winners of the WorldSkills Competition and the Hong Kong Construction Industry Skills Competition will also be invited to share their experiences. And on 5 February, the Slasher Generation theme day will see a KOL from the beauty industry share her entrepreneurial story. In addition, there will be a discussion on whether being a slasher - someone who takes up more than one job or occupational identity - offers the freedom it suggests.
The expo will also feature a number of career development-oriented seminars with the Hong Kong Federation of Youth Groups discussing digital marketing strategies (today) and a KOL entrepreneur sharing her career experiences (5 February). Also today, Cyberport is introducing ways to be part of the fast-growing innovation and technology industry, while tomorrow the Civil Service Bureau of the HKSAR will explain the roles of the Administrative Officer and Executive Officer grades in different departments of the HKSAR Government (3 February). On 4 and 5 February, professionals will provide an overview of recruitment details for the Disciplined Services; the Hong Kong International Aviation Academy will outline the path to becoming an aviation professional (4 February); and the Hong Kong Mediation Centre will share on how to make good use of mediation to further assist one's career development (5 February). Many more featured celebrities and experts from different industries will be on hand at the expo to share their career experiences, personal journeys and keys to success.
Expo website:
https://hkeducationexpo.hktdc.com/
Activity schedule:
https://bit.ly/3kUwtel
Photo download:
https://bit.ly/3DCEFpZ
About HKTDC
The Hong Kong Trade Development Council (HKTDC) is a statutory body established in 1966 to promote, assist and develop Hong Kong's trade. With 50 offices globally, including 13 in Mainland China, the HKTDC promotes Hong Kong as a two-way global investment and business hub. The HKTDC organises international exhibitions, conferences and business missions to create business opportunities for companies, particularly small and medium-sized enterprises (SMEs), in the mainland and international markets. The HKTDC also provides up-to-date market insights and product information via research reports and digital news channels. For more information, please visit:
www.hktdc.com/aboutus
. Follow us on Twitter @hktdc and LinkedIn
Media enquiries
HKTDC's Corporate Communications Department:
Clementine Cheung, Tel: +852 2584 4514, Email:
clementine.hm.cheung@hktdc.org
Eric Wong, Tel: +852 2584 4575, Email:
eric.ks.wong@hktdc.org