HKTDC Education and Careers Expo opens in early February
One-stop showcase for latest study and employment trends with 700 organisations participating
HONG KONG, Jan 18, 2023 - (ACN Newswire) -
Organised by the Hong Kong Trade Development Council (HKTDC), the 32nd HKTDC Education & Careers Expo will be held from 2 to 5 February (Thursday to Sunday) at the Hong Kong Convention and Exhibition Centre (HKCEC). The expo presents designated zones under two themes, namely Education and Careers. The four-day event is open to the public free of charge, providing a one-stop platform with the latest information on education, training and career development and more than 2,800 job openings on offer. A number of companies and organisations will provide on-site interviews to jobseekers.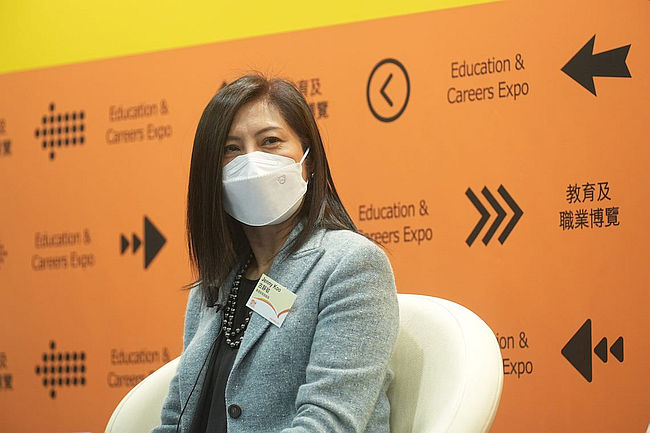 Speaking at a press conference to introduce this year's Education & Careers Expo, Jenny Koo, HKTDC Assistant Executive Director, said: "I hope the diverse content and strong lineup of exhibitors in this year's Education and Careers Expo will inspire students and jobseekers to gain the motivation to hone new skills, expand their horizons and explore new possibilities"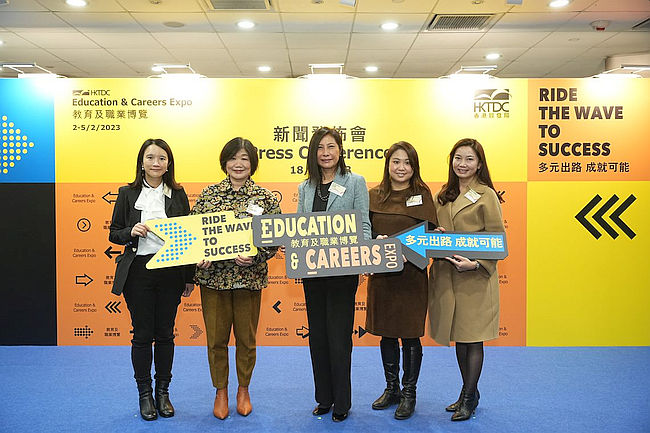 Yvonne Wong, Vice Chairman, The Y.Elites Association & GM, Qianhai International Liaison Services; Natalie Chew, Director, Communications and Public Relations Office, Vocational Training Council; Jenny Koo, HKTDC Asst. Executive Director; Rebecca Choi, Asst. Director - Student & Curriculum Development, Hong Kong Institute of Construction; and Veon Tsang, Founder, HotelsHR [L-R]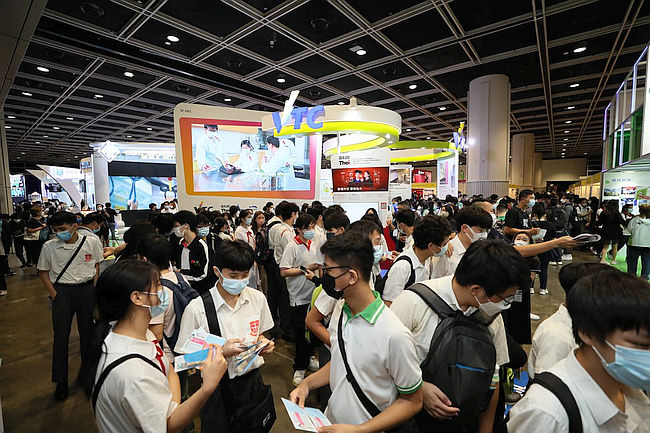 The 32nd edition of the HKTDC Education & Careers Expo runs from 2 to 5 February at the Hong Kong Convention and Exhibition Centre. The photo shows scenes from last year's event.
Speaking at today's press conference to announce details of the expo, Jenny Koo, HKTDC Assistant Executive Director, said: "This year's expo, themed 'Ride the Wave to Success', will host 700 organisations including educational institutions, professional associations, government departments, public organisations and private companies to feature information on studies in 20 countries and regions as well as employment opportunities. I hope this year's diverse content and strong lineup of exhibitors will inspire students, employed individuals and jobseekers to gain the motivation to hone new skills, expand their horizons and explore new possibilities."
Four Careers Theme Days introduce latest career trends and prospects
Four Careers Theme Days over the course of the expo will highlight the latest career trends and introduce visitors to the prospects in different industries. Co-organised by the Vocational Training Council (VTC), the VPET - Skilling Talent for the Future theme day on 2 February will introduce various sought-after professional and vocational skills in this new era that can help people develop more diverse and exciting careers. On 3 February, the GBA Opportunities theme day will invite representatives from the Greater Bay Area Youth Development Association to discuss the potential for the younger generation to land job offers and start a business in the Guangdong-Hong Kong-Macao Greater Bay Area (GBA). Representatives from The Y.Elites Association will share information and recount their experiences in relation to employment and entrepreneurship in Qianhai, Shenzhen, while the Greater Bay Area Homeland Youth Community Foundation will offer tips on studying in the GBA.
On 4 February, the Exploring Construction Industry theme day, co-organised by the Hong Kong Institute of Construction (HKIC) and the HKTDC, will invite professionals to give insights into how the construction industry is leveraging the latest technologies as it enters a new era of "Construction 2.0", as well as sharing on current prospects. And on 5 February, the Slasher Generation theme day will introduce the new kind of workforce members who engage in multiple jobs at the same time, with speakers from the barista profession and influencer marketing sector sharing both the fun aspects and the challenges they face in their career paths.
More than 2,800 job openings on offer, some with on-site interviews
The Career-themed Zones will offer more than 2,800 job openings from a variety of professional institutions, recruitment platforms, local government bodies and corporations. At the Recruitment Square, recruitment platforms and employers including Hong Kong East Cluster of the Hospital Authority, Citybus and Asia Airfreight Terminal, among others, will recruit and interview candidates on the spot. Visitors can bring their resumes to the expo and apply for the posts that interest them.
Four Education-themed Zones highlight local, mainland and overseas opportunities
This year's expo features four education zones, including the Local Studies Zone featuring universities and post-secondary institutions such as Hong Kong Shue Yan University and the Hang Seng University of Hong Kong that provide information on further studies.
The Overseas & Mainland China Education Zone brings together consulate general offices, officially approved organisations, overseas universities and study centres to provide information and consulting services regarding educational opportunities in 19 different countries and regions, including Europe, the United States, Asia and Mainland China. And the Lifelong Learning Zone will showcase numerous self-betterment programmes and on-the-job training courses for visitors, covering areas such as technology, lifestyle, language, beauty and cosmetics.
At the Youth Zone, visitors can get information on continuing education and career planning, and find out more about summer jobs, internship opportunities and full-time jobs. Exhibitors include The Hong Kong Federation of Youth Groups, Hong Kong Youth Exchange Promotion United Association, the Hong Kong Playground Association and more.
In addition, the expo will offer four Education Theme Days, providing an in-depth introduction to the European Union (2 February), the United Kingdom (3 February), France (4 February) and Germany (5 February), covering key topics such as admission requirements, the preparation process prior to studying abroad, and insights into campus life and the support facilities offered in different locations.
80+ inspiring events, distinguished speakers share their insights and success stories
Visitors interested in joining a variety of sectors such as the innovation and technology industry and the government sector, or embarking on a working holiday, can take advantage of more than 80+ inspiring events that will be held during the expo, with celebrities and experts joining to share their experiences and strategies for success:
- Henry Lee, Account Director (Talent and Learning Solutions), LinkedIn, will share the latest trends in Hong Kong's labour market and offer job-hunting tips for the digital age.
- Sunny Chan, famed director and screenwriter of Hong Kong films Table for Six and Men on the Dragon, will share his inspiring journey from screenwriter to director.
- "fataunt", registered nurse and YouTuber, will talk about how he became a key opinion leader (KOL) while studying at university.
- Christina Ho, civil aviation pilot, who successfully transitioned from a fashion designer to become a pilot in local airline industry, will share her inspirational journey.
- Siu Yan-ho, doctoral lecturer, will share his experience of transforming from an under-achiever, with a score of 6 in the HKCEE public exam, to become a doctoral lecturer.
- Expo website:
https://hkeducationexpo.hktdc.com/
- Activity schedule:
https://bit.ly/3XoVBrV
- Photo download:
https://bit.ly/3wbVWCn
About HKTDC
The Hong Kong Trade Development Council (HKTDC) is a statutory body established in 1966 to promote, assist and develop Hong Kong's trade. With 50 offices globally, including 13 in Mainland China, the HKTDC promotes Hong Kong as a two-way global investment and business hub. The HKTDC organises international exhibitions, conferences and business missions to create business opportunities for companies, particularly small and medium-sized enterprises (SMEs), in the mainland and international markets. The HKTDC also provides up-to-date market insights and product information via research reports and digital news channels. For more information, please visit:
www.hktdc.com/aboutus
. Follow us on Twitter @hktdc and LinkedIn.
Media enquiries
HKTDC's Corporate Communications Department:
Clementine Cheung, Tel: +852 2584 4514, Email:
clementine.hm.cheung@hktdc.org
Eric Wong, Tel: +852 2584 4575, Email:
eric.ks.wong@hktdc.org